Travelers to almost any of the Hawaiian Islands can reach their destination with very little difficulty.  Getting to and from Molokai, conversely, can be a bit of a challenge.
No airline flies to this little island directly from outside the State of Hawaii.  Therefore, travelers must fly into Honolulu or Kahului, Maui to connect with one of the three airlines serving Molokai. Here's connection info for all three;
Hawaiian Airlines    800.367.5320
Mokulele Airlines  808.495.4188
Makani Kai Air    808.834.1111
Hawaiian flies twin engine, turbo-prop aircraft, which seat about 50 passengers.  Mokulele and Makani Kai both fly single engine, turbo-prop planes carrying 9 passengers.
Pros & Cons – Hawaiian's planes are larger and therefore a little more comfortable, they use the main terminal in Honolulu and your luggage can be checked through to other Hawaiian Airlines destinations.  The Mokulele and Makani Kai are usually $10-15 less expensive per way and don't require folks to go through the TSA security checks, but they use terminals away from the rest of the airport services.
Flight times to either Honolulu or Kahului, Maui is about 30 minutes.
In Honolulu –
While all three airlines arrive at and depart from the Molokai airport at Ho'olehua, they all arrive/depart at different locations at the Honolulu Airport.
Only Hawaiian flights use the main Hawaiian Airlines terminal.  Travelers using Hawaiian Airlines for their out-of-state flights will not need to change terminals when connecting to/from Molokai.
Mokulele Airlines has a separate, small terminal located on Aolele Street about a mile east of Honolulu's main terminals.  This necessitates, a journey on the Wiki Wiki bus (the airport's free shuttle) or a taxi ride. The rental car shuttles service this terminal as well.
Makanai Kai offers service from its terminal on the other side of the airport, on Iolana Place and Lagoon Drive.  No Wiki Wiki service here and only Thrifty Rental Cars provides shuttle service.  One must use taxi or Uber to get to/from the main Honolulu terminals.
In Kahului, Maui –
Hawaiian flights use the main terminal, so mainland connections are fairly simple.
Mokulele and Makani Kai use the smaller commuter terminal which is only a 50-yard walk from the main terminal.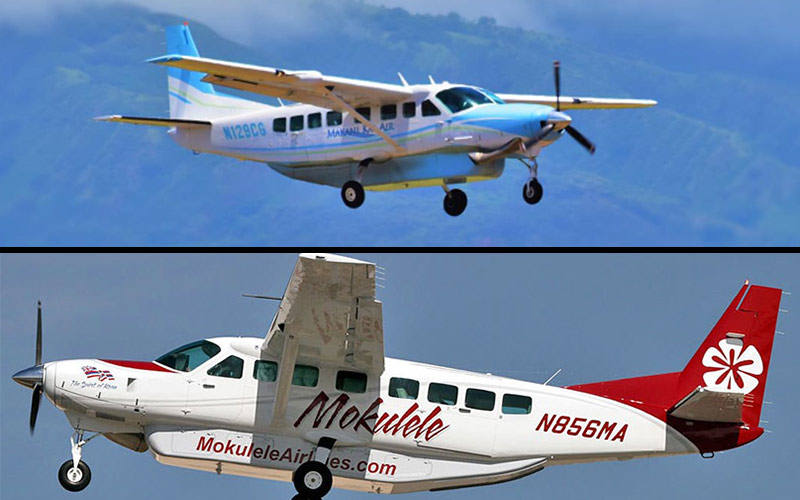 Airport Codes –
HNL – Honolulu
OGG – Kahului, Maui
MKK – Molokai – You'll sometimes see our airport listed as Ho'olehua, which is its physical location. You'll find more connecting flights through Honolulu than Maui, but either one will work.
LUP – Kalaupapa – Only Mokulele and Makani Kai offer service to Kalaupapa.
Ground Transportation
Even though it's a fairly small island, the sights, attractions and activities are scattered all over Molokai.  Since there is no public transportation, you will need a rental car or a taxi to get from your lodging choice to anywhere else on the island. Taxi service is available from two companies.
Taxis
Hele Mai Taxi – 808.336.0967   Provides reliable, island-wide service with plenty of Aloha.
Midnight Taxi – 808.658.1410
Rental Cars
Molokai Car Rental – 808.336.0670 is locally owned and operated. They provide pick up and drop off service or have your car waiting for you in the airport parking lot.
At the airport you will find Alamo Car Rental You'll need to walk across the parking lot to their office and car lot to pick up your car.
Bicycles
For the energetic, you can rent bicycles for your stay from Molokai Bicycle.
Driving On Molokai

Even though it's the same road, you'll note from the map that it has two highway numbers. 450 & 460. Kamehameha V Highway (450) starts at Kaunakakai and ends 27 miles (43km) east at Halawa.
Maunaloa Highway (460) also begins at Kaunakakai, passes the airport at Ho'olehua and ends 17 miles (27km) west at the village of Maunaloa. Turn at mile 15 to reach the Kaluakoi Resort area. To get to Kualapu'u, Kala'e and the Kalaupapa lookout, take Highway 470 where it branches from 460 in the middle of the island.
There are green mile posts every mile. Directions to someone's house, a resort or a great beach usually include the nearest mile marker number or landmark. For example; "My house is east 6/10s past mile 12. Mauka (mountain) side" or "Wavecrest resort is at exactly mile 13 east, makai (ocean side)."
While the driving times below may seem a little high for the distance involved, they are based on some real life-on-molokai factors. The highest posted speed limit anywhere on the island is 45mph (72kph) and in many places it's less.
Maunaloa to Kaunakakai – 17 miles (27km) – 25 minutes
Kaluakoi Resort to Kaunakakai – 22 miles (35km) – 35 minutes
Kaluakoi Resort to Kalaupapa lookout – 24 miles (38km) – 35 minutes
Kaluakoi Resort to Airport – 15 miles (24km) – 20 minutes
Kaunakakai to Wavecrest Resort – 13 miles (21km) – 20 minutes
Kaunakakai to Halawa – 27 miles (43km) – 50 minutes
Kaunakakai to Kalaupapa lookout – 10 miles (16km) – 20 minutes
Kaunakakai to Airport – 8 miles (13km) – 20 minutes