Accommodations on Molokai fall into four categories; hotel, condominiums, beach houses and unique.
The ONE HOTEL, Hotel Molokai, is located about 1.5 miles east of Kaunakakai, is situated right on the waters edge, was originally constructed in 1968 and still retains that old-Hawaii style.
Five condominium complexes make up the bulk of the island's vacation rental options.  Kepuhi Beach Resort (Kaluakoi Villas), Ke Nani Kai Resort and Paniolo Hale are on or very near to Kepuhi Beach in the Kaluakoi area of west Molokai.  Molokai Shores is on the water just one mile east of Kaunakakai and 13 miles east of town is Wavecrest Resort.

Most of the rentable beach houses and cottages are located on the east end of the island, between mile 2 and 18.  There are also a few large houses in the Kaluakoi area on the west end and a couple of bed and breakfast options near Kaunakakai.
As a side note, Maui County has launched a zealous campaign to bring all vacation rentals, except condos, into compliance with county regulations, thus the shortage of rentals by owners.  Apparently it is exceedingly difficult and time-consuming to acquire the necessary licenses. Condos automatically meet the requirements.
So, Where Should I Stay?
During the late 1970s and early 80s, Molokai experienced a condo building boom – starting in 1975 with Wavecrest Resort on the east end, quickly followed in 1977 by Molokai Shores near Kaunakakai.  In 1978 the west-end resort area at Kaluakoi took off.  This included a hotel, championship golf course and the Kaluakoi Villas (Kepuhi Beach Resort) condominiums.  The Paniolo Hale condominiums were built in 1980, just to the north of the Villas and adjacent to the back nine holes of the golf course.  Ke Nani Kai resort came along in 1983 next to the Villas.
The Hotel and golf course are owned by Molokai Ranch and currently both are closed.  The history of that situation is another story.
Each of the condo developments has their own pros and cons.  Here are my observations
Starting in the west;
Kepuhi Beach Resort (formerly Kaluakoi Villas) – Several two-story buildings arranged with a large lawn area in the center of a semi-circle.  Situated right on Kepuhi Beach, every unit has an ocean and sunset view.  The barbecues are located in the center of the common area, the swimming pool is adjacent to the beach.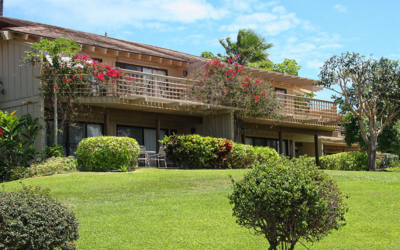 Ke Nani Kai – The newest of the island's condos, these are two-story buildings with one and two bedroom units, each with a large Lanai. A few have distant views of Papohaku beach, but Kepuhi beach and Make Horse Beach are only a short (1/4 mile) walk away. Very nice pool, whirlpool and barbecue area. Excellent tennis courts.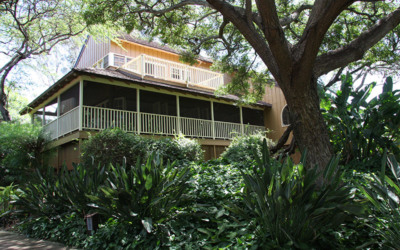 Paniolo Hale – Probably the most upscale of all Molokai condos, they are tucked into a tree shaded garden setting. Very few have ocean views, but it is only a hundred yard stroll to Kepuhi or Make Horse Beaches.
In central Molokai on the south shore;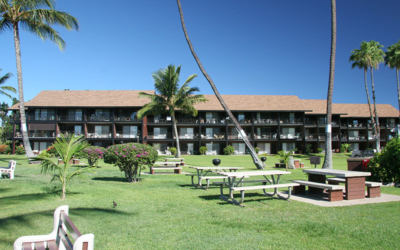 Molokai Shores – Mostly 1 bedroom units in typical box style. Be sure to comparison shop all the Molokai Shores condos online. Closest condos to Kaunakakai (1.5 miles). Spectacular views of Lanai across the channel, swimming pool, BBQs, Shuffleboard. Beach is nice for strolls, but no ocean swimming.
On Molokai's tropical east end;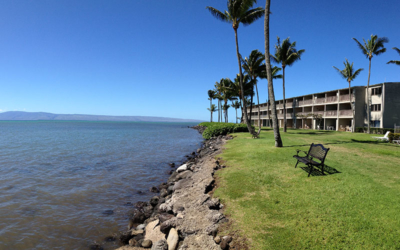 Wavecrest Resort – Three-story buildings, all ocean view. "A" building is ocean Front (50′). Mostly one bedroom units, ocean front swimming pool, cabana, tennis, barbecues, shuffleboard. Very nice tropical landscaping on lush east end.
Maybe a Beach House or Bed & Breakfast?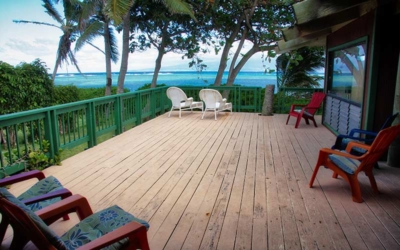 Beach Houses or Bed & Breakfast – There are some delightful beach houses for rent, especially on the island's east end, between mile 2 and mile 18 from Kaunakakai.  In the Kaluakoi area on the west end are a few large vacation homes and there are a couple of bed and breakfast options near Kaunakakai.
And There's Always Hotel Molokai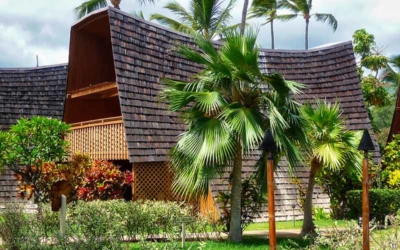 Hotel Molokai – There is only one hotel on the island, Hotel Molokai. Two miles east of Kaunakakai, this beachfront landmark, in the old Polynesian style, is a great choice.  Right on the ocean, with a beachfront restaurant, bar and swimming pool.